Zimbabwean comedian Samantha Kureya has been a victim of brutality which seems to be a nationwide terror of allegedly abducting and brutally terrorizing citizens who criticize President Emmerson Mnangagwa and the ruling Zanu-PF party.
The Ministry of Information, Publicity and Broadcasting have confirmed with Police of Zimbabwe that Marimba police station received a report of kidnapping and assault from Kureya. She had reported that 3 masked men, carrying firearms came into her home at around 9PM and allegedly assaulted her and her relatives in front of children, they then proceeded to dump her in Mufakose bruised and traumatized.
It is reported that she was then forced inside a pick-up truck. Activists seem to believe that it is the same vehicle that was identified in a number of attacks reported to them in the past recent weeks. Kureya says her abductors drove her into an unknown place. Samantha then alleges that they told her they have been monitoring her because she mocked the government. Tossed to the ground, she was then instructed to perform a series of army drills and then instructed to drink sewage water. The 3 abductors started asking questions about her partner, Bustop TV and her colleagues. She was then told to strip and her cellphone was smashed with an assault rifle. Kureya is a political satirist who works for Bustop TV.
She is known by her stage name Gonyeti and made jokes about the police and the government. She is currently in hiding and receiving medical treatment. Human rights activists believe that security services are responsible for the attack.
Kureya and another comedian were arrested earlier this year for public nuisance when they appeared in a comic sketch wearing police uniform. Her mothers life was allegedly threatened if the comedian were to report the case. Nelson Chamisa called her abduction a "barbaric human rights violation", something many of the arrested citizens experienced. Kureya narrates her ordeal in a video below: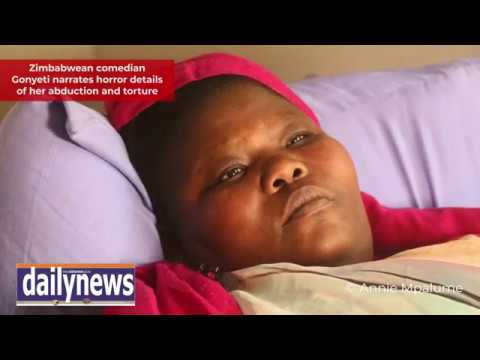 Investigations are underway.
Read Next:
Meet First Black Queen Vimbai Chapungu
Picture credit: Gambakwe.com
Video credit: Daily News Zimbabwe